Now you can collect our free monthly gourmet editions
Nurture yourself. Growing, cooking and loving greens, beans, grains, nuts, seeds and flowers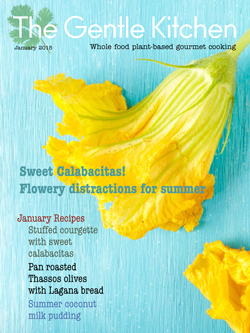 Join The Gentle Kitchen community and collect your free exclusive monthly publications – January 2015 now available.
The January edition features a great look behind the scenes at London's Cantina Laredo where chef Tarryn Ginsberg shows how to make all vegan stuffed courgette blossoms with special step by step instructions for us.
Don't miss out on a wonderful entertainer's dish!
A tasting plate of stories from our unique international magazine
NEW YORK: In Soho we went in search of the perfect tea towel but ended up falling in love with Loopy Mango's boutique and bijou crochet rugs. 
read more