Be inspired on your journey to health by our free monthly gourmet magazine
Nurture yourself. Growing, cooking and loving greens, beans, grains, nuts, seeds and flowers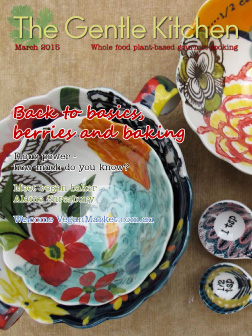 Join The Gentle Kitchen community and collect your free exclusive monthly publications – March 2015 now available.
This month is our vegan baking special. We also welcome Australia's vegan market online site to kick off our new product directory.
Sign up in March and you will also receive the free January and February editions!
A tasting plate of stories from our unique international magazine
March is all about baking and especially the story of the Hollywood vegan baker, horsewoman Alaine Shrewsbury. The Gentle Kitchen free monthly mini editions are packed with interesting plant-based recipes, articles and health features. Collect them every month! Sign... read more