Our July date at Cafe Blossom was a birthday celebration – and we weren't disappointed. On a summer day this pretty New York Upper West Side restaurant gave our party of four foodies a warm welcome.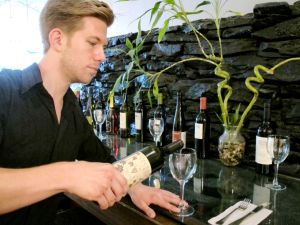 We  toasted the birthday girl with a very nice glass of The Vegan Vine cabernet,  chosen from a decent selection.  Alex our server was a great host and answered all of our  menu questions, always good when there are non-vegan dining partners.
There is a competitive selection of starters: The black eyed pea cake ($8) made from yukon potato was a generous serve and delicious with a  creamy chipotle aioli. We also liked the mushroom ravioli ($10) with divine truffle butter. The autumn sweet potato rolls (gluten free, GF) were packed with coconut noodles, peppers, avocado and served with almond-ginger dipping sauce we all had to try! With the live nachos and beet ravioli there is a good choice of GF options.
Entree salads are colorful and beautifully assembled. Try the quinoa salad with its  black beans, sweet corn, diced peppers, watercress, toasted pumpkin seeds, sunflower seeds, accompanied with mango guacamole and poblano pepper dressing.
The zucchini linguine is raw and gluten free- a great summer lunch entree, with almond butter cream our non-vegan friend really enjoyed. You might like to try the delicious pistachio-crusted tofu (how can we get that recipe!) or the bold  seitan frites au poivre with its spicy peppercorns and horseradish. The restaurant also serves a good veggie burger as part of a range of sandwiches for around $14. Side dishes, including grilled tofu, start at $5.
The dessert menu at Cafe Blossom is worth waiting for. We were besotted with the special key lime pie and also tried the signature cake ($6 for carrot, chocolate or lemon). And if you like cake you will want to take a slice home too – delicious.
Knowing its reputation as one of New York's most popular vegan restaurants, we made reservations. And the cafe may have been busy mid week but we were more than satisfied by the professional (and witty) serving staff.