White tableware usually leaves me cold. Until it is showcasing a glorious vegetable! If you have virginal white soup bowls its worth making Broccoli Soup just to admire the fashion statement – oh and it's healthy too.
Recipe courtesy of the  Forks Over Knives the Cookbook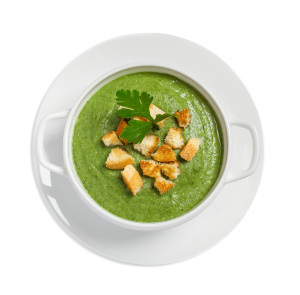 INGREDIENTS
3 large leeks, white parts only, sliced and rinsed
1 tsp thyme leaves
4 cups broccoli florets
4 1/2 cups vegetable stock
3 tbsp nutritional yeast
Salt and pepper
METHOD
Place leeks in a large saucepan and sauté over medium heat for 10 minutes. Add water 1 to 2 tbsp at a time to keep the leeks from sticking to the pan. Add the thyme and cook for another minute, then add the broccoli, vegetable stock, and yeast. Bring to a boil over high heat, reduce to medium heat and cook till the broccoli is tender – about 10 minutes.
Puree the soup using a blender, return to pot and season with salt and pepper to taste.