Bianca Phillips has the passion of generations of Arkansas cooks in her blood.
With mama Delores and granny Ruth, she has successfully redefined and re-created the best, and homeliest dishes from her beloved childhood.
Now we can all benefit from three generations of soul-warming country cooking as Bianca has compiled dozens of family favorites in a new cookbook Cookin' Crunk.
She says "crunk" – a Southern slang term for getting excited – conveys her passion for veganism and for her Southern roots.
The Arkansas native happily admits her recipes originated in the family kitchen: "I'm not a trained chef just a Southern gal who grew up hovering around the knees of my mama and granny in the kitchen. As a result my recipes are far from pretentious and gourmet – just simple comfort food free of meat and other animal products."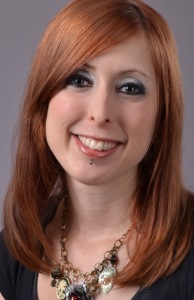 "Ive been vegetarian since I was 14 and went vegan at 24 – at first my mom said 'no cheese – you have gone crazy!' .
"But now when we eat out together, she has what I have!"
Her mom has been a huge supporter,  even creating a vegan version of her legendary cornbread dressing, which is included in the cookbook.
Bianca says she rarely cooks the same thing twice though she loves tofu.
"I most often cook a tofu scramble, and maybe the vegan pimiento cheese," she said.
Savory dishes in Cookin' Crunk include Butter Bean Bruschetta, Chocolate Gravy, served over Whole Wheat Buttermilk Biscuits, Southern Fried Tofu Chicken and a great vegan interpretation of chicken and dumplings.
Bianca shares her Southern vegan pantry essentials, revealing her adventurous palate, and is a big fan of seasoning salts, black salt (kala namak) which she swears adds a real egg flavor, and her favorite Sriracha sauce (sweet-hot Thai chili sauce).
"And I couldn't have finished the book without granny's vegan-adapted pie recipes," Bianca said.
Thank goodness for that! The recipes for cobblers, bread pudding, dark chocolate bourbon pecan pice and of course mint julep brownies are mouth-watering enough to adopt as your own family tradition. – HEATHER FLETCHER
Check out Bianca's blog HERE
Eatin' Vegan in the Dirty South
Bianca Phillips
Book Publishing Company, Summertown, Tennessee 2012